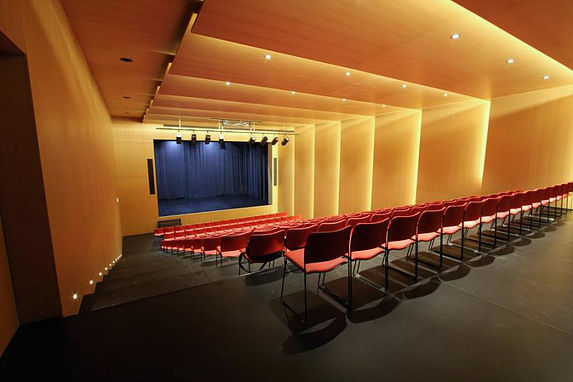 Description: Depending on layout, the Aula de la Tuilerie can hold the following numbers:
Chairs only: 195 places
"Cabaret" layout (tables and chairs, auditorium only): 120 places
"Dining" layout (tables and chairs, auditorium and stage): 160 places
The number of people in the space must not under any circumstances be higher than the capacity described above. Bringing in additional chairs or other equipment intended to increase the capacity is also prohibited.
It is also possible to hire the foyer (for meetings etc) or the foyer and kitchen (for brought-in meals to be served from the kitchen).
Uses:
The Aula is suitable for theatre, lectures, concerts, dance, meetings and similar activities.
The Saint-Maurice Municipal Council may give approval for other events to be held there.
When using the auditorium, the hirer or user may make use of the following areas:
On the ground floor: Entrance area, foyer, kitchen

In the basement (backstage): Goods lift, corridors, store room, dressing rooms, toilets

In the basement (public area): Unsupervised cloakroom, toilets

Booking or advance booking:
Commune administration: 024 486 60 60

Online form
Accessibilité